Come in today for your complete eye health exam
Healthy vision is an amazing gift. Imagine what it would be like to lose your vision and the devastating impact it would have on your life. Many eye diseases can rob you of your sight. Fortunately most cases of severe vision loss and blindness can be prevented with early detection, and today there are options available to help your doctor identify disease early.
Family Vision is excited to offer you a new, advanced test to evaluate the health of your eye and help detect glaucoma and retinal disease. The Cirrus HD-OCT performs a simple yet powerful test which helps doctors identify early signs of eye problems which can lead to irreversible blindness. The test is quick, completely  non-invasive and non-contact, and does not require preparation.
Diseases such as glaucoma, macular degeneration, and diabetic retinopathy tend to progress without any symptoms in the early stages. Age is a major risk factor for development of many eye conditions because they typically develop over the course of one's lifetime. That is why it is vital to be tested for these conditions early with the Cirrus HD-OCT. The later a disease is discovered, the more difficult it is to treat. painless, and does not touch the eye.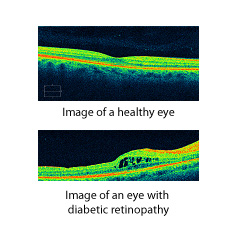 The Cirrus HD-OCT uses light to image the structures in the back of the eye to help doctors detect changes in the retina caused by diabetes, macular degeneration and other eye diseases. The information the image provides can affect the doctor's decision about the need for further tests or treatment.
Early detection and monitoring can help your doctor make important decisions about your vision. Therefore, The Eye Doctors at Family Vision highly recommend you take this convenient exam.
Bismarck Hours
Monday          8:30 am - 5:30 pm
Tuesday          8:30 am - 7:00 pm
Wednesday    8:30 am - 5:30 pm
Thursday        8:30 am - 5:30 pm
Friday              8:30 am - 5:30 pm
Saturday*         8:30 am - 1:00 pm
*2nd and 3rd Saturdays of the month: 8:00 am - 2:00 pm
Elgin Hours
Friday*     8:30 am - 5:00 pm
*Dr. Heil see's patients every other Friday in Elgin
Schedule an appointment:
Call (701) 222-1420
© 2018 Family Vision Clinic All Rights Reserved